By Kyle Buott, President, Halifax-Dartmouth & District Labour Council and member of Solidarity Halifax.
Originally published in the Halifax Media Coop.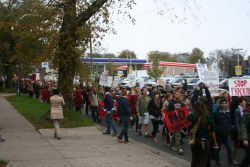 For the next four years the struggle for justice will be in the streets, not the halls of the provincial legislature.
The NDP government
For the past four years, there have been disagreements among labour and social movements on how to deal with an NDP government. Some of us wanted to publicly push them on day one and some of us wanted to work within the government structure. There was always a debate in every social movement about to what degree we should have worked with the NDP and to what degree the NDP was just like any other government.
Looking back, its clear that labour and social movements were too divided and too nice to the government. Much more could have, and should have, been done.
Today, because of how badly the NDP lost the election, they are relatively discredited as an opposition force and will be unable to raise our issues in the legislature effectively. This means our only option for opposing attacks on the working classes and oppressed will be in the streets.
Whatever you opinion on the previous NDP government, the task ahead of us with a Liberal government is challenging indeed.
The Liberal government
Within days of the new cabinet being sworn in, the Liberals announced plans to privatize public non-profit road paving and have publicly mused about privatizing health care services. Coupled with their opposition to any and all pro-worker legislation in the last four years and we are in for a rough ride.
The Liberal cabinet is made up of landlords, lawyers and business people, hardly a progressive bunch. Labour and social movements must be ready if and when the Liberals decide to implement an austerity agenda.
What must be done?
The Halifax-Dartmouth & District Labour Council believes the only solution is to form a Common Front for Justice between labour and social movements in Nova Scotia. This model has been tried in both New Brunswick and Ontario, and historically in Quebec and British Columbia.
At the Nova Scotia Federation of Labour's Convention, delegates unanimously voted in favour of convening a Common Front for Justice. Such an effort would try to bring together labour unions, women's organizations, student unions, First Nations groups, the black community, immigrants, environmentalists, the disabled, people of faith, artists, anti poverty activists, and all those concerned with economic, social and environmental justice.
Ideally, the Common Front would hold two or three large gatherings each year, which would bring together advocates for justice from across the province. It would also coordinate efforts between social movements and serve as a central point for sharing information. The Common Front could develop a platform, possibly starting from the Canadian Centre for Policy Alternative's Alternative Provincial Budget. The Common front could also have a coordinating body to organize actions and events between the larger gatherings.
The possibilities for the Common Front are only limited by our imaginations. Our goal must be to build power in our labour and social movements and to use that power not only to defend existing social programs and services, but to push for a fair and just world.
The Labour Council encourages local unions and social movements to call for and work toward the formation of a Common Front for Justice. At the end of the day we must remember the call from the Occupy movement – We are unstoppable – another world is possible!
Note: Articles published by Solidarity Halifax members do not necessarily reflect positions held by the organization.
Comments
comments